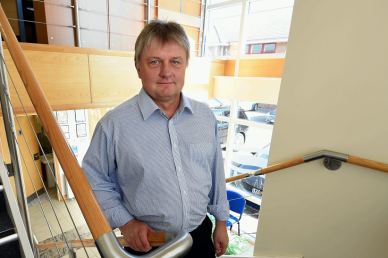 A £2 million electrical contract for Workington's new leisure centre has been awarded to a local company.
J&J Electrical (Cumbria) Ltd, based on the town's Oxford Street, will design and install power, heating, lighting and ventilation technology at the £11.3m facility on Brow Top.
Allerdale Council is building the new centre and swimming pool to replace the old Workington Sports Centre at Moorclose. It is due to open in spring 2016.
J&J Electrical was established in 1993 by Graham and Alison Mossop. Mr Mossop said: "This is great news for our company, for our staff and suppliers, and for the Cumbrian economy.
"We're committed to working with local firms and have developed our local supply chain over 22 years of steady trading.
"We hire Cumbrian sub-contractors when required and our aim is for them to live within 20 miles of the site, so that we keep the benefits to the economy as close to home as possible.
"There's a wealth of expertise in west Cumbria, and the county, so we know we're perfectly placed to bring this job in on time, and on budget. We better had – our staff and their families can't wait to use it!"
Paul Shackley, Allerdale Council's corporate director, said: "This is the second substantial contract for the leisure centre awarded to a Cumbrian firm.
"Ashcroft Plant, of Maryport, has already been appointed as groundwork specialist in a contract worth £1.3m.
We have benchmarks for local spend – 30 per cent of the build budget must be spent within a 10-mile radius, 50 per cent within 20 miles and 75 per cent within 40 miles – and the appointment of J&J Electrical, Cumbria Mechanical and Ashcroft is helping us ensure we meet those targets."
The leisure centre will feature an eight-lane, 25 metre swimming pool, and a separate learner pool, sauna and steam room.
There will also be a fitness suite, four-court sports hall, two squash courts, two dance studios, a spinning studio and a climbing wall.
Outside there will be all-weather five-a-side sports pitches and parking for 319 cars, with a public plaza in front of the building.